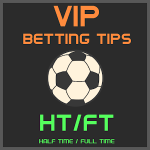 The Half-Time / Full-Time bet is a bet on which you decide on the outcome of an event both at half-time and at the end of the match. These bets are offered on almost every football game and are very common in team sports, and very popular among football bettors.
HT/FT bets require an absolute flair, but also a certain amount of nerve. Indeed, it is extremely difficult to predict which team will lead the game in the first half and who will win the competition.
At soccerpunt.com we are extremely vigilant and learn as much as possible about the game before posting our predictions. We have a good selection of daily HT/FT predictions we are willing to share with you! All you have to do is jump at the opportunity and try your luck on the HT/ FT bet with us!